Young People from ADF families at Wodonga Senior Secondary College had a super fun day out, thanks to the team at NECANA and the FSFP (Family Support Funding Program).  Teens In Action began in 2011 when NECANA and Local Wodonga Defence Transition Mentors partnered up. The idea is to establish tradition by providing our teens with some great memories of their time in Wodonga, and create a deeper sense of belonging within both the school and local community.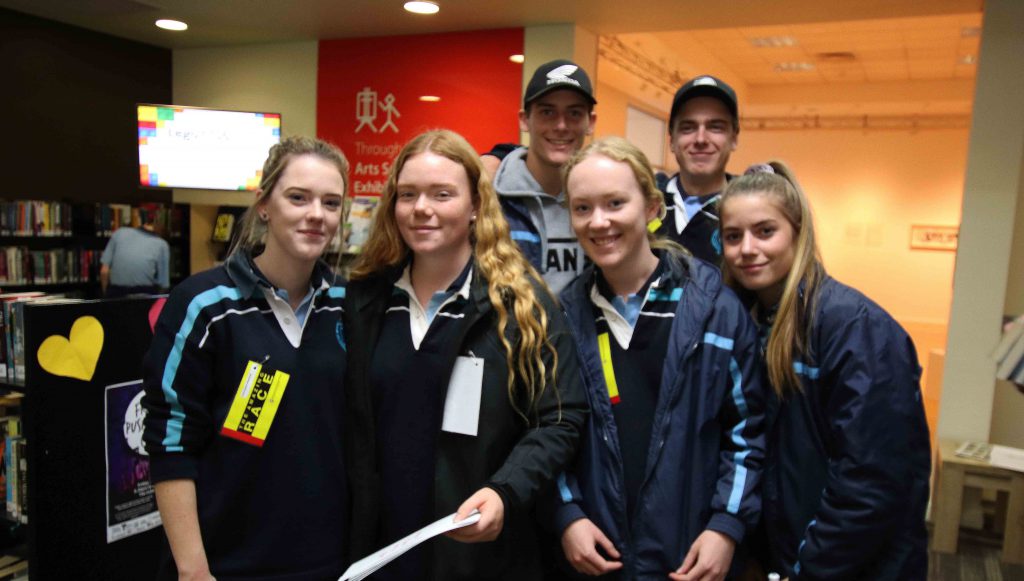 Students completing one of their challenges at the Wodonga Library
The fun started with Ten Pin Bowling where Adelaide took out first place with triple figure score, a massive 122 points. It should be mentioned that Adelaide also bowled a very rare Turkey, which is 3 strikes in a row! Closely followed by Amanda with a score of 98. Teams celebrated with each other as Strikes and Spares appeared on the scoreboard, and encouraged each other when gutter balls were bowled in threes! We emptied out the Slush Puppy machine and everyone had a good dose of brain freeze and overload of sugar. Then we formed our teams for the next leg of the race… The Amazing Race! We headed to Junction Place for Zambrero's lunch, which we enjoyed in the beautiful Autumn sunshine.
It was then time to start the Amazing Race. We were given a safety briefing and sent in different directions to complete challenges, a detour and a road block.  Parent volunteers supervised the stations and made sure the Young people completed the challenges before giving them the next clue. Thanks to Fleur, Nicole and Andy for coming along to help. And also thanks to Anthony Nicholson, AKA- Nicho (WMYC Defence Transition Mentour) and Jenni Jarratt, AKA – JJ for helping coordinate the mammoth day out.
We had an absolute ball soaking up the sun in the main street of Wodonga! And we are very grateful to the wonderful NECANA crew for the famous showbags. We also want to thank you for the funding and for your continued support in seeing how important Teenagers are in the families of our local ADF community.
Jacqui Boehringer
Defence Transition Mentor – WSSC