Wodonga Senior SC offers Home Stay for our International Students as part of the program for the period that the student will be under 18 while in Australia. The cost of Home Stay is approximately $290 per week. Where parents opt for DEECD to arrange accommodation, Wodonga Senior SC will provide accommodation of high quality and which provides a safe, comfortable and caring environment. Working with Children's checks are organised prior to the student moving in. The weekly fee covers expenses associated with the provision of the following homestay services including a single bedroom for the student's exclusive use, three meals per day/ seven days per week, bed, wardrobe, towels, linen, gas, electricity, heating and water costs. Study facilities including a desk, study light and bookcase. Telephone and internet expenses will be the student's responsibility.
2014 Chinese Student Tour
In 2014 the college welcomed 20 Chinese visitors to the College. The group stayed with us for a week. The 17 students ranged from age 7-16. The week was action packed with barely a spare minute. The students were all hosted by Home Stay families for 4 nights. Feedback from families was that this was not long enough and they would have loved to spend more time with their students. The experience of hosting has enriched the lives of each family and they thoroughly embraced the opportunity. The group was accompanied by Lenry (Principal of Easy Foreign International Language School, WeiHai) and Eleanor (Chinese Coordinator in Weihai). The group was shown around our college and also participated in a short Wodonga local area tour. The students were able to experience EAL, Information Technology and AAP Maths classes and a Sport & Recreation session. We then departed for a day trip to Mt Pilot, Woolshed Falls and Beechworth. The students were encouraged to use their English skills to order lunch at the Beechworth Bakery. A little bit of shopping was completed with the honey shop being very popular. The evening was spent with the Host family.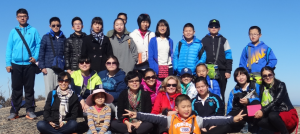 CRICOS Provider Code: 00861K