On Friday 26th August, 85 Health, Physical Education and Outdoor Education (OES) staff from around the North East Victorian region came to Wodonga Senior Secondary College for a whole day of innovative, engaging and hands-on Professional Learning. The day had a strong focus on Respectful Relationships Education (RRE), with some renowned professionals sharing their knowledge, getting staff ready for the Statewide rollout of RRE in 2017.  There were also a range of sessions for PE and OES, with a highlight of the day, the 'Teach-meet', where staff engaged in 10 minutes of activities from their choice of 6 different sessions, in the space of 30 minutes – a fun way to jam-pack practical applications and network with knowledgeable people.  In total, there were 20 different sessions on offer throughout the day, including an opening and closing ceremony for reflection, and a keynote speaker (Professor Moira Carmody PhD). Attendees also had access to a conference 'app', which allowed them to network and share photos, resources and sign up to the range of sessions on offer.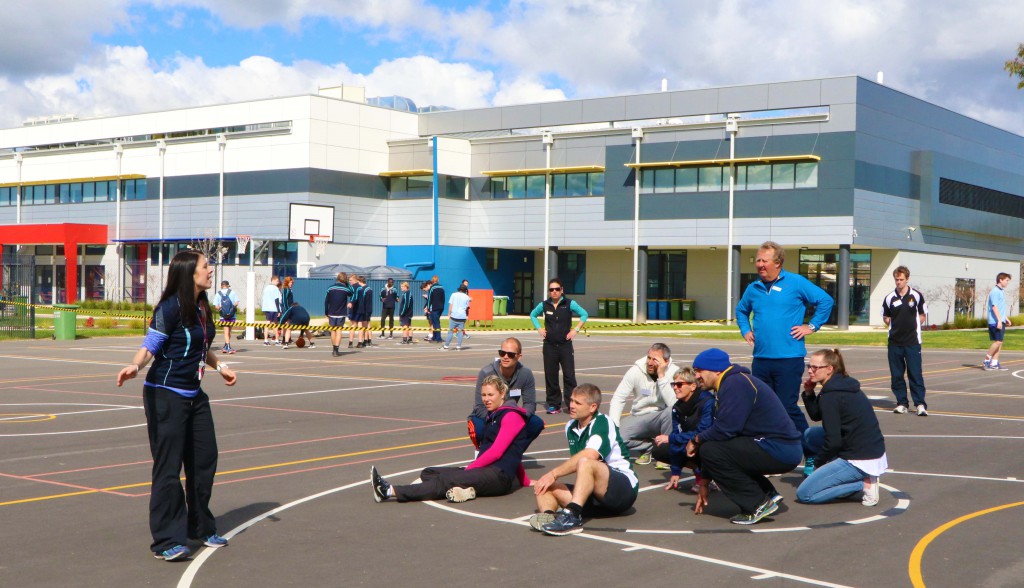 Over 40 schools and organisations were represented on the day, with local and national speakers highlighting what the NEVR region has to offer our young people. Feedback was overly positive, and people were left bursting with ideas about how they can implement RRE into their classrooms – I have already seen evidence of this on the WSSC LMS.  The practical activities gave teachers ideas that they can begin implementing straight away, and the networking, and collaboration on the day was invaluable. The day had a competitive edge, with teachers competing in a 'Bakers dozen-athlon' – completing 13 challenges around the school, for prizes donated by our sponsor, RHSports. Our very own Peppers Restaurant served a fantastic sit-down meal which was very
well-received by attendees.
A huge thankyou to the WSSC staff who helped to support the smooth running of the day, and shared their knowledge by presenting sessions. Thankyou to our social media guru Nick, who took footage of the whole day and made a fantastic video for the closing ceremony.

Thank you to CERSH (Centre for Excellence in Rural Sexual Health), Melbourne University, ACHPER (Australian Council for Health, PE & Recreation), School Sports Victoria, RHSports, Energise Adventures, PE Made Easy and VCAA (Victorian Curriculum and Assessment Authority) for donating time, money and resources to bring all aspects of the conference together, and make it affordable to local staff. Wodonga Senior Secondary College was the perfect location for the conference and the attendees were impressed by our resources and ability to facilitate such an event.
Finally, I must mention our guest presenters, who added to the local pool of knowledge and took our conference to the next level:
–  Professor Moira Carmody PhD (Professor Gender & Sexualities Research Western Sydney University, Director Ethical Solutions for Practice)
–  Jenny Walsh (Author 'Catching on' resources, and The Hormone Factory)
–  Airlie Tudhope (PE made easy)
–  Dr Bernie Holland (ACHPER and RMIT University)
–  Kristy Lang & Sally Wilson (VCAA Specialist Teachers)
The attendees left the conference feeling motivated and energised, ready to build on their classroom practices. Our local network of Health, PE and OES teachers has grown to over 130 members and I look forward to the continued growth of the network, and to build on this years conference for next year.
Jess Harris
VCAA Specialist Teacher
Health, Physical and Outdoor Education Teacher