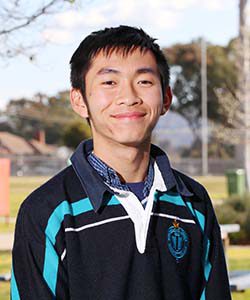 Van Thanh Hai – Year 11
"I have been studied in Wodonga Senior Secondary College (WSSC) for a year, since July 2018. My first impression was: "Wow, how can it be so difficult?" I was struggling with most of the subjects, mainly because of the language barrier. However, with people support, especially from my teachers, I can assure that I have improved a lot in comparison to when I first came. The education here is really different to Vietnam's education. I find it much easier to understand what the teachers say, and if I do not, the teachers always take their time to rephrase it and use different methods to help me understand it. There are countless ways for us to study, especially with the LMS of the school website. At the same time, I have opportunities to make more friends, not only just Aussie friends, but also the others from different nationalities. I have many kind and helpful friends in the school. After school, when I have problems with my daily activities, Ms. Larkin is always there to support me and try her best to solve the problems with me. I feel really lucky that my parents have provided a chance for me to be here to enjoy studying in this school."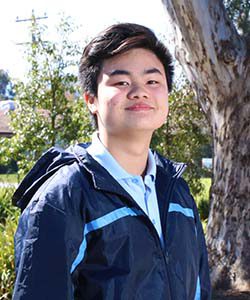 Nguyen Le Minh – Year 9
"Mrs. Melanie McClure is a very helpful and kind person. Before I came to Wodonga, she kept sending emails informing my parents about all the paperworks that needed to be done. It was really detailed and accurate. When I arrived here, she picked up me at the hotel and took me to my new homestay family, minding me of things I had to do the next day and never forgets to ask about my parent's health. After settled in with my new life, although she was so busy, she usually gets me a ring to check if everything was on the right track or not. I really appreciate what she has done for me, it was so wonderful to meet her as my assistance."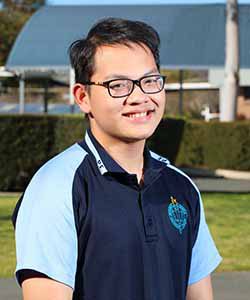 Le Tuan Minh – Year 10
My name is Minh and I am an international student at Wodonga Senior Secondary College. I started studying here a month ago and it is very interesting studying here. There are a lot of subjects in many fields like engineering to business, food to languages,… And the cool thing is that everybody is extremely friendly and easy to talk to. People respect each other, and teachers are like friends to you, when talking to them it feels like you're talking to your casual friends rather than a teacher. The school also have loads of events/activities, which makes it so entertaining in the school year. And that's why I think this school is a nice place to learn.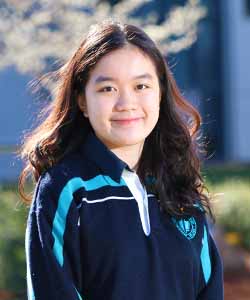 Nguyen Van Lam – Year 10
"As an international student, I think that the environment at WSSC is amazing. I benefited a lot from the balanced program between academics, sports, and leisure. It helped me to deal with stress through my school life. I found it easy to make new friends when I first came to WSSC, students and teachers both made me feel so welcome. And having international mates has helped me acknowledge the rest of the world better. We talk about many different things, and they relate it to their culture, which makes me excited about exploring the world.  The teachers are constantly motivating me to do my best. It is great to know that they are always there to help me reach my full potential. They usually give me beneficial advice, which allowed me to head in the right direction. Additionally, the curriculum has a variety of subjects to choose from, providing a great learning habitat, which is highly important for my future. Overall, I have fun, I have great friends, and I have great teachers here. For me, WSSC is the best, and I love WSSC!"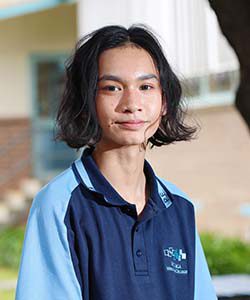 Timothy Nguyen – Year 9 I came to Australia about 7 months ago. I would say it's not a smooth beginning, mainly because of my previous host, but the school's really helpful in helping me in finding a better homestay and the transition was pretty quit (about 4 months). Study in the middle year is a whole different situation than the other international student, Melanie McClure is who in charge of the international student in the middle year (Huon and Felltimber campus). In the perspective of a year 9 student WMYC (Wodonga Middle Year College) and WSSC really care about our future occupation, there are not that many elective subjects that I can choose in the middle, Melanie gave me an extra elective that I study with the year 10 in the Senior which is Theatre Study base on the fact that my most interest future job is to be an actor and my drama class in the middle year collapse, there are a few problems at the beginning because WSSC and WMYC don't have the same time tables and I got to miss some classes to study Theatre Study but Melanie make thing work smoothly (it's very kind of Melanie actually, Thank you, Mel). Also, talking about kind people I couldn't forget Heni, Heni is always being kind to us (everyone), she just like our friend, we have lunch sometimes to update of how thing is going on with school and homestay (pretty much everything), always a good person to talk to. I don't know about other international students experience of life in Australia but I guess they have a lot of friends, met a lot of new people, or you might end up being an emo like me hang out with nobody at all but you will get along with your journey like me still being an emo myself but I'm starting to getting along with people. Having a part-time job is also an international student thing too, you might need a lot more money than you think you would or maybe your family just too rich to care about how much money your spending cost, but anyway it's a good experience to try out.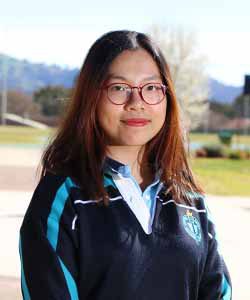 Ngo Thanh Phuong Linh – Year 10
Điều gì khiến việc đi du học trở nên thú vị? Tôi không biết với các bạn như thế nào, nhưng có lẽ với tôi, là được hòa bản thân vào gia đình ông bà Ted và Joan. Homestay nghe thật xa vời, thật là lùng và xa cách. Nhiều câu chuyện được san sẻ trên mạng xã hội, qua miệng người là các câu chuyện xấu xa khi ở trong một gia đình homestay bẻ méo đi tính chất tích cực của nó.
Hãy thử tưởng tượng khi đi học xa nhà, bỗng dưng mọi "trách nhiệm", "gánh nặng" bản thân chưa bao giờ gặp, nay lại đến ghé chào thường xuyên. Và thực sự còn gì có thể sánh bằng, khi mình có thể được san sẻ, tâm sự, trao đổi quan niệm với một gia đình thứ 2. Từng thứ nhỏ nhặt li ti, vụn vặt hằng ngày của tôi, ông bà đều sẵn sàng chỉnh sửa. Những bài học đời sống, chân lý hằng ngày mình chưa bao giờ nhận ra, ông bà đều sẵn sàng dạy.
Như bao các bạn khác, tôi đã quen với những bữa ăn cầm bát, gắp thịt cá và đầy ắp rau. Hiển nhiên mình không thể có những thứ đó khi sang 1 đất nước xa lạ. Ông bà thấu hiểu được việc đó. Bà luôn cố gắng đọc sách nấu ăn, tìm tòi những công thức nấu món Á để có thể giúp bọn tôi đỡ nhớ nhà. À, vấn đề này không phải ngày 1 ngày 2 nhé, đôi khi cơm sẽ thành cháo và thịt sẽ thành xi măng. Nhưng chỉ việc thấy bà cố gắng như vậy, làm tôi càng ngày càng quý gia đình này hơn.
Những kì nghỉ lễ, có vẻ phần thú vị nhất là cắp đít theo ông bà khám phá đất nước Kangaroo này. Ông bà sẽ dắt tôi đi các thành phố khác nhau trên cái xe Ca-ra-van hơn 10 năm tuổi. Các bạn đã được trải nghiệm cảm giác "bạ đâu ngủ đấy, có gì ăn nấy"  một cách thực sự chưa? Thăm con cháu lẫn chắt của ông bà cũng là một việc thú vị, thực sự là một đại gia đình. Và mỗi gia đình đều mang 1 vẻ khác nhau. Thú vị lắm!
Homestay là một trải nghiệm rất đặc biệt. Vì nó sẽ là những năm tháng lớn lên của bạn, những năm tháng của mọi cảm xúc, và những người chứng kiến được điều đó, là nhà homestay của bạn.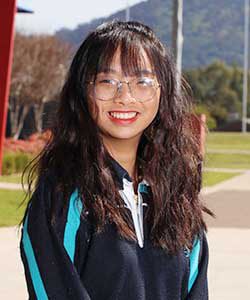 Nguyen Hoai Thuy Linh – Year 10
Với vai trò học sinh quốc tế học ở Wodonga Senior Secondary College gần một năm, con cảm thấy đây là một ngôi trường tuyệt vời để phát triển bản thân. WSSC luôn tạo ra môi trường năng động, thân thiện và công bằng cho học sinh. Giáo viên luôn nhiệt tình giảng bài, giúp đỡ cả trong và ngoài giờ học. Cô Di Larkin- người phụ trách học sinh Việt Nam ở trường, là cô giáo đầu tiên con quen. Cô Di đã giúp đỡ con rất nhiều: từ việc học tập, bạn bè cho đến những vấn đề cuộc sống, vì thế, con không chỉ coi cô như một giáo viên, cô còn là một người bạn sẵn sàng lắng nghe những tâm sự, giãi bày của con. Các giáo viên khác cũng thân thiện như vậy. Ở trường, các thầy cô như những người bạn. Bên cạnh việc giảng dạy, họ luôn dành thời gian để trò chuyện cùng học sinh. Nhờ có sự tận tình, quan tâm của các thầy cô mà việc học đối với con không còn là một gánh nặng và ngôn ngữ không còn là một rào cản quá lớn. Các giờ học đều sôi động vì các thầy cô luôn tạo điều kiện để hoạt động nhóm và tự tìm hiểu, với một số môn thì có cả các bài tập thực hành, sau đó mới chốt lại kiến thức. Con rất thích cách học này vì nó giúp con hiểu và nhớ kiến thức một cách bài bản chứ không phải học vẹt và "tụng kinh niệm phật" để thuộc lòng. Bên cạnh những giờ học là những buổi hoạt động ngoại khóa nhằm giúp thế hệ trẻ phát triển toàn diện như ngày hội thể thao, ngày hội bơi lội, những buổi thuyết trình về giới tính và các mối quan hệ, v.v. Những buổi này đã cung cấp cho con rất nhiều thông tin hữu ích, cung cấp một cái nhìn cụ thể hơn về cuộc sống của người Úc, giúp cú sốc văn hóa ngày một mờ nhạt. Bạn bè ở ngôi trường này cũng thân thiện và tốt bụng. Từ những ngày đầu tiên con đi học, các bạn dù chưa quen nhưng vẫn giúp đỡ con rất nhiều. Nhờ có những người bạn mà con hòa nhập được chỉ sau hai tuần. Như vậy, WSSC có thầy cô tốt, môi trường tốt, bạn bè tốt và con rất yêu ngôi trường này.
Department of Education & Training
CRICOS Provider Code: 00861K