Last week, 20 students from Wodonga Senior Secondary College participated in a week long workshop with award winning author Alice Pung. The workshop was a result of an initiative of the Stella Schools Program to offer grants to regional schools to have a well-known author come and spend the week to be an author in residence. The participating students were asked to write a short story over the week, focusing on character, symbols, dialogue and setting. The students were encouraged to find a strong voice in their writing and incorporate elements of a personal experience.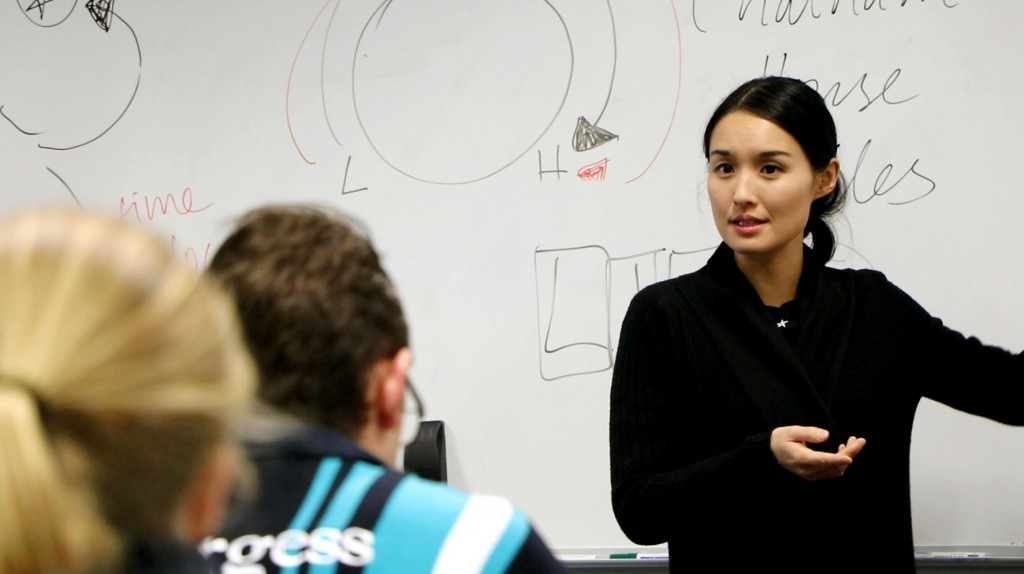 Author Alice Pung working with students to develop their story
Nicole Jasinowicz
English Teacher
This is an excerpt from Emma Morrison's short story title 'Autumn Leaves'.
Autumn Leaves by Emma Morrison
A small creek silently flowed along the rocks and pebbles embedded under the water. The cool autumn breeze shot through me, causing me to shove my dry hands further into the pockets of my grey hoodie. Many people began to jog over to the falling sea of orange and yellow. A smile tugged on the corners of my lips as a pigmented orange leaf fell delicately onto the cold concrete. Suddenly, a cheer left my younger brother as he held a small crumpled up leaf in the palm of his hand, 'ha caught it!' Our whole family rolled our eyes at his competitive sense. Everyone's eyes locked and this meant the competition began. We all sprinted under a large tree that had many leaves waiting to fall. There wasn't a prize to this competition, I just want bragging rights.
As the competition began, giggles and soft squeals erupted in our family; strangers passing by gave us weird looks, almost like they were concerned for our health. Those weird looks from people we didn't know, didn't matter because we were all having fun and we were spending time together. In that moment, I could feel all my previous stress and anxiety float away, as though it was on its own leaf.