Over the course of a six week period, student's from the Koori Graduate Program class have been participating in a local Burraja cultural program. The program aims to educate students about the local aboriginal history and significance of our region.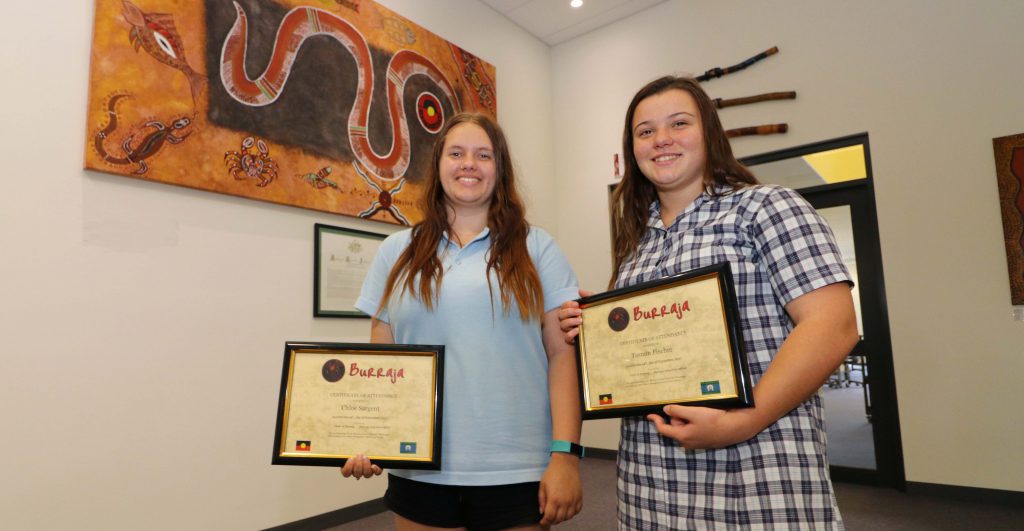 Students Chloe Sargeant and Tasmin Fischer with their cirtificates
The first week of the program saw the students visit the Burraja centre at Gateway Lakes on the border where they learnt how rope was made by hand using the resources of the land, putting their knowledge into practice by making a length and testing its strength.
A highlight of the program was a trip to Mount Pilot, where the students were given a guided tour of the site and learnt about the cultural significance of the area, admiring the region from the lookout point.
Year 12 Student Tasmin Fischer said, "The program has been a great experience, learning lots about aboriginal culture has been really interesting and I have gone to places that I have never been to before".
The Burraja cultural program is just one of the events that the group of student have been involved in throughout the year with a tournament of indigenous game Marngrook and running a cultural day at Bandiana Primary School were amongst the highlights of the Graduate Program student's time in the class.