Our College would like to congratulate the 29 nominees in the 2018 Red Carpet Youth Awards. Each of these students have displayed qualities from the eleven attributes of a College graduate and made a positive contribution to our community.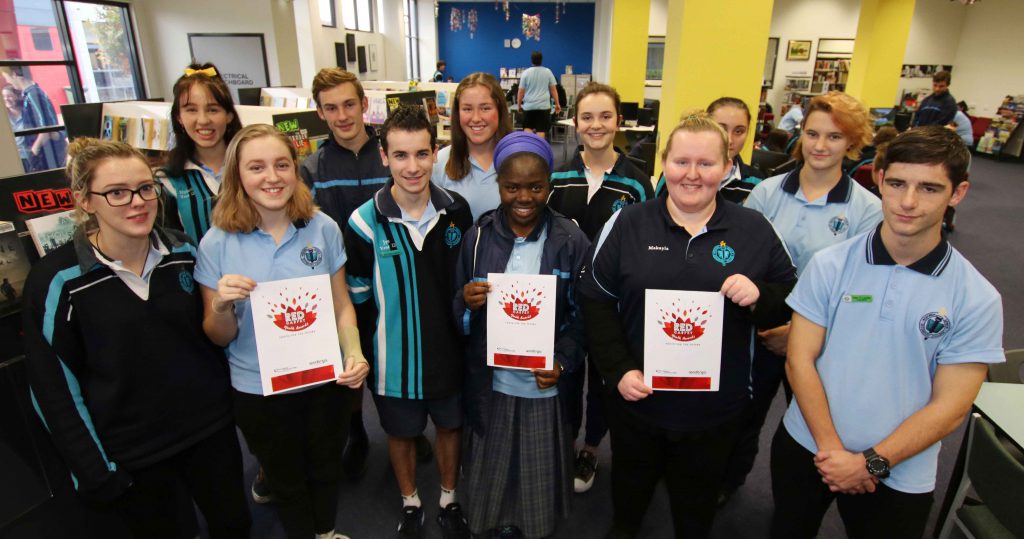 Makayla Good Year 12 – Young Carer

I am a young carer for my two younger brothers who have Autism and I have also cared for my grandparents before they passed away in 2017. I still give to the community when I can, I was involved in the youth committee for the 16 days of activism against violence. Being a young carer has had a significant impact on my schooling.

I feel honoured to have been nominated for a red carpet youth award, words can't explain how much I appreciate everyone at WSSC for giving me this opportunity and for helping me through everything over the past 4 years
Katlin Flaherty Year 10 –  Individual Community Service

I moved to the area 6 months ago, in that time I have been finding my feet so I feel that I haven't contributed a lot to the community yet. I have spoken for the school at an ANZAC ceremony, done a reading for the RSL at the morning parade on ANZAC day and have attended various sporting events on behalf of the school.  I have recently signed up to attend the Freeza Council Program, a youth group that I attend on Friday nights, I have also started looking into volunteering my time at WMYC for the English Learning program. The nomination for RCA has me feeling overwhelmed and humble as I wasn't expecting to be nominated
Maddison Hamilton Year 10 – Individual Community Service

I have entered 2 of my photos into the photography category in the Wodonga show at the start of the year. 1 of my 2 photos have come 1st in the junior category in the Wodonga show. I learn how to improve my photography skills and knowledge in my digital photography class at school.
Seonaid Lee Year 11 – Individual Community Service

I am involved in the FREEZA committee where we organise events for the young people of Wodonga. I help a lot of young people who are new to Australia in settling in to our college community, and I am also involved in many sporting activities in and out of school.
Tyson Sklenar Year 11 – Visual Arts

I have been nominated for the Red Carpet Youth Awards for visual arts and media award. Within the last 6 – 12 months I have joined a studio arts photography class and learnt many skills within the photography industry with including an excursion to Melbourne to exhibit modern art and photography compared to the past. I also entered 2 Photographs in the Wodonga Show Photography Contest and being received a Highly Commended ribbon for both of those photographs.  Being nominated for Red Carpet Youth Awards makes me proud of how far I've come within the visual/studio arts. Being nominated and receiving 2 highly commended  drive me to motivation to continue and pursue my skills further and to give every opportunity a try because you never know what the outcome will be.
Adelaide Roach Year 11 – Individual Community Service Award
Adelaide is involved in Gang show, a volunteer with the SES and many community events with Guides.
Jordan Ross Year 10 – Individual Community Service Award

Jordan has been involved in the College and town ANZAC ceremonies where he gave readings. He is also a representative on the Youth Voice headspace committee.
Natasha Birongo Year 11 – Endurance and Persistence

Recently moved to Australia as a refugee and has taken on more of a caring role in her home. She is settling in and taking on lots of opportunities helping in her local community and school.

Applicant for UNICEF Young Ambassador award, Lion Youth of the year participant.
| | |
| --- | --- |
| | Olive Cribbes Year 11 – Red carpet committee member |
Jye McBurnie Year 12 – Individual Community Service Award

My community work has taken me to some amazing places from meeting Bruce and Denise Morcombe and joining the fight against Domestic Violence to creating, hosting and executing numerous cancer events.

Being on the RCA  committee last year I know the hard work that this year's committee have to put in to create such an amazing night which further more adds to the honour of being nominated alongside the youth of Wodonga.
Mykelti Kotzur Year 12 – Visual Arts

I was particularly fortunate to have been selected for the Top Arts Exhibition, a collection of exceptional works compiled and displayed by the National Gallery of Victoria. In my year 12 Art studies, I achieved a 50 study score, and subsequently, was awarded a Victorian Premier's Award. I also completed T-Shirt designs for a social enterprise I helped to build, which raises funds to support schools in Cambodia.

It's just such a great sense of accomplishment to be recognised with a nomination, and makes me even more thankful to all the people who supported me in reaching where I am right now.
McCarlie Jane Dorman Year 12 – Individual Community Service award

Mccarlie-Jane has completed her Queens Scout award which has covered many hours of volunteering, learning new skills and assisting people in her community.
| | |
| --- | --- |
| | Phoebe Moore  Year 11 – Sport and Recreation Volunteer Award |
Claudia Reeb Year 12 – Advocacy & Action

I organised a disability awareness event, involving organising a dress up day on the 11th of May and a guest speaker on the 25th of May. I also contacted local businesses asking about donations to go towards the organisation of the event, I had the local hotel in Albury "the hovel tree inn" donate a room for my guest speaker to stay in, and I got $250 donated by the local bank WAW. As well as Beazley's Wodonga donating 200 sausages for my dress up day for a sausage sizzle which was a part of the dress up day selling them for $1 and all profits going towards Belvoir Special School for their Independent Living Centre which is being built. I feel very honoured to be nominated as I put a lot of hard work of hard work into my project and it's for a great cause.
Tayla Sjrogen Year 11 – Endurance and Persistence Award

After being severely concussed, diagnosed with post concussion syndrome and brain damage, I have continued to follow my dreams an d complete year 12 at the same time as constant rehab, doctors and psychologist appointment, and out of school issues. I feel privileged that this has been recognised and is something that has wanted to be shared.
Teagan Carmosin Year 11 – Endurance and persistI am a young carer in my family. I help my mum to provide care to my father.

I am honoured to be nominated for a Red Carpet Award.
Charlotte Kay Year 11 – Performing Arts

I did the role of Mrs Potts for Beauty and The Beast 2017, with Bytesized Productions. With that role I was nominated for Best Supporting Role Junior Female at the Georgy Awards and won, I was also nominated for the same category at the Canberra Area Theatre Awards. I did Les Miserable with LIVID also and finished Xanadu with Bytesized and played the role of Thetis. I entered the Corroyong Man from Snowy River Festival and got 1st overall. I also placed second at the under 18's Retro Competition. I feel very humbled and excited for this opportunity to be nominated, especially up against such wonderful candidates and all do so much for the community.
s
Alexandra Michael Year 12 – Individual Community Service Award

In the past 6 months, I've volunteered to work at the Ronald McDonald Family Rooms, part of the Ronald McDonald Charities, at the Wodonga Hospital. During my time in the rooms I have worked one on one with families who have sick babies in the nursery, looked after and entertained babies that have graduated the nursery during our Special Care Mothers Group, and helping out with the organisation of some of the public call outs for things such as knitted clothing by sorting packages and calling donors. Being nominated for a RCA is an honour, it's a refreshing reminder that the work we choose to do is making enough of an impact to be recognised, and that impact is why I choose to do it.
Mica Baker Year 11 – Endurance and Persistence

In the past Year and a half I've been out of home, living with my best friend's family whilst I navigated some difficult family issues. I try not to let this interfere with my school life as I'm studying VCE subjects and hope to go to university. I also got a job about a year ago now and have been saving for a car/university

I feel that it's validating and that it's good to be acknowledged
Chelsea Barton Year 11 – Performing Arts Award

During the last 12-18 I have performed on various occasions at local events, school ceremonies and larger regional performances. I have been involved in both ByteSized Productions "Beauty & The Beast JR" in 2017 and Albury Wodonga Theatre Company's "Chicago" in 2018 which both got excellent reviews from the public as well as currently supporting backstage for Byte Sized Productions "Xanadu JR". Currently I am studying Unit 2 VCE music performance which is increasing both my skills and knowledge in performing arts skills. I feel honoured to have others recognise my achievements both  Inside and outside of the school community and give others the chance to become aware of the performing arts opportunities available in the Albury/Wodonga region.
Marnie Elliot Year 11 – Young Carer

I have had some very significant personal challenges going on for the past few years. These challenges have impacted me greatly. I am very grateful for the people around me who have helped me.

I feel good knowing that I have been nominated by someone who has seen the strength I have to keep pushing through day to day life even with everything happening in this past year and a half.
Ashleigh Hall Year  10 – Visual Arts

I entered a local art competition, run by GIGS art studio, based on Gateway Island Wodonga. This studio is volunteer run, and they decided to have an open art competition to schools of all ages, the theme was critters. I entered a drawing of an enlarged butterfly on the hand of a skeleton to portray perhaps the creepiness of critters; my work was entitled 'the wings of death'. In the end, I was placed 3rd overall. I was happy to support this smaller studio and broadcast the amazing visual art opportunities we have in the area. I am so glad that the people at WSSC have had the opportunity to display the amazing achievements and the great spirit our school has to acknowledge these achievements, I feel very honoured for someone to have nominated me amongst this great school.
Bonnie Burgess Year 11 – Visual arts and media/Volunteered in Fiji for 9 days working on a painting project.

I entered my artwork into an art completion with GIGS Art Gallery. I came first with my acrylic painting of a caterpillar called Juvenescence, I am honoured to be nominated for my work.

I feel really honoured to be nominated by a fellow member of the community for such an amazing award.
Jovana Buckvic Year 12 – Sport and Recreation AwardI have been nominated for my commitment to my contribution to both my involvement in both my school and community sports. I also organised a School Camp for my peers in completing our Duke Of Edinburgh and my involvement in Outdoor education and Phys ed.

I am flattered and happy to be nominated. But surprised as I just do what I love.
Jessica Fitzsimmons Year 12 – Sport and Recreation Volunteer Award

I have volunteered with my club- Wodonga Diamonds and have done lots of coaching and playing.

I feel great about being nominated because it recognises my achievements in the community.
Madeleine Kay Year 11 –

I have been involved in numerous musicals and performance opportunities in my school and local community. My most recent show being Xanadu, and some others Beauty and The Beast, Les Mis and soon to be in the Putnam Spelling Bee at my college. I am a part of bands and choral groups. I feel like my contributions towards the community and the involvement I put in are being rewarded, and it makes me feel happy to be recognised.
Steph Lee Year 12 – Sport and Recreation Award

Steph has been very involved in sports both in our college and in the community.
Ao 'Elijah' Shuker Year 11 – Sport and Recreation Award

In the last year I have spent Wednesday afternoons volunteering and Saturday mornings /afternoons at Willow Park doing training and coaching for the Miniroo's for Wodonga Heart Football Club.
Eliza Spalding Year 10 – Music and Performing Arts

I perform at a lot of community events on the Border. In the last year I have been lucky enough to sing at Tamworth Country Music Festival and go on tour with Bill Chambers.

I feel really lucky to have been nominated for the Red Carpet Awards
Brooklyn Lewin Year 11 – Individual Community Service Award

I volunteer at interchange with their after school care and holiday programs. I volunteer with the Wodonga council with their recent children's fair and ANZAC day service
Faith Ezou Year 11 – Visual Arts

I was nominated by my friends for a visual arts award, because they think I'm pretty good at what I do. I like drawing and sketching most. I really enjoy scribbling around and creating whatever comes out of my head.

I feel pretty surprised to be nominated by my friends for this award. It feels kinda' good to be recognised.