The weather did not deter competitors at the 14th annual Wodonga Senior Secondary College Swimming Carnival, with fierce competition between the four houses as they were out to claim the title at the this years Carnival. The day saw records fall and a new rivalry begin between Nangwiya (Green) and Wagarra (Blue) emerging.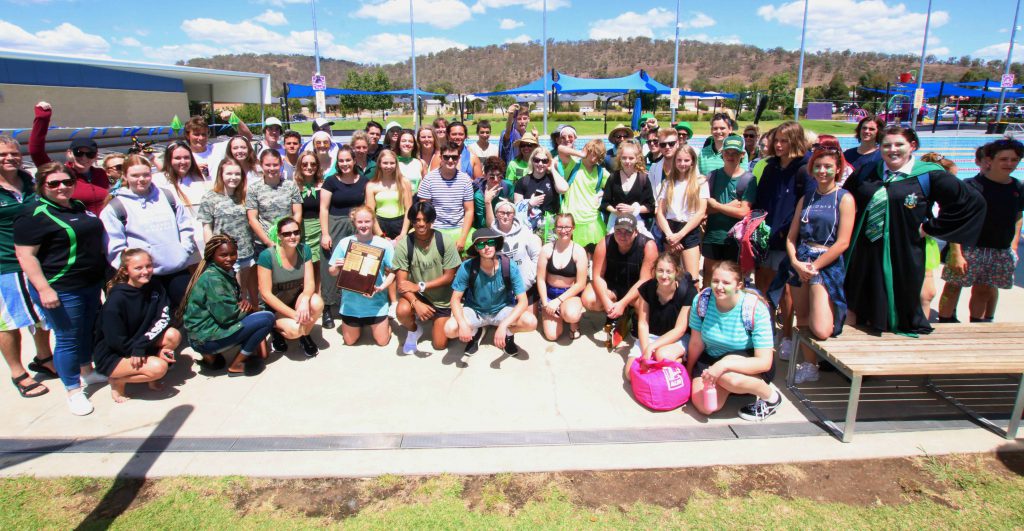 This years competition saw a new record created, with Lachlan Payne clocking 32.28 seconds in the 16 years Backstroke. There was lots happening pool-side this year with a range of new novelty events added to the line up, including minute to win it challenges and a hula-hoop competition which were well received, but it was the Year 12 bombing competition that was the biggest crowd pleaser on the day. Congratulations to Kylie Frauenfelder on receiving the Olympic Spirit Award for her team work, participation on the day.
The Age Group Champions this year were:
16 Years:  Lachlan Payne (Male) and Georgia Rootsey (Female)
17 Years:  Jordan Olney and Chris Watson (Male) and Zoe Freeman (Female)
20 Years:  Connor Marshall (Male) and Tegan Roberts (Female)
The final scores for the day were:
Nangwiya: 1042
Wunamurra: 832
Gawungwa: 466
Wagarra: 455
To celebrate the victory, Nangwiya (Green) House held a celebration in the library this afternoon.
Nangwiya House captain Connor Marshall was among the students enjoying today's celebration, Connor Said "days like our Swimming and Athletics Carnivals are a great opportunity to meet new people" hoping to rally a larger team for our Athletics Carnival.
The day was enjoyed by all and was a great celebration of our strong house culture ahead of the Athletics Carnival to be held later in the Term.