Students from our Japanese class were joined by 2018 graduates, boarding an early train to Melbourne on Sunday to enjoy a day out at the Japanese summer festival. Some dressed in cosplay, becoming part of the scene, whilst the rest of us enjoyed watching a parade of both traditional and modern costumes.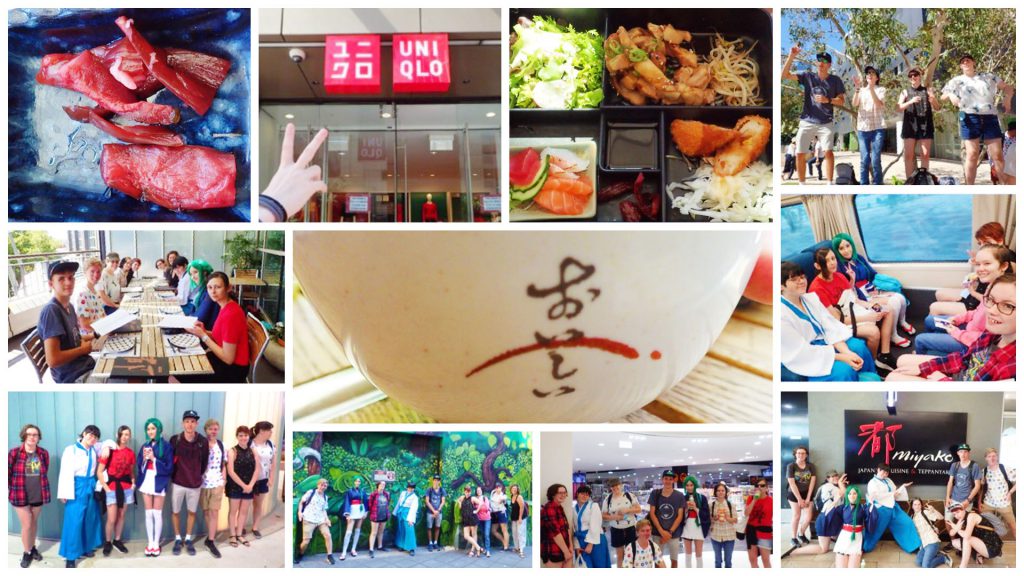 WSSC Students experiencing some of the many wonders of the Melbourne Japanese Summer Festival.
After a stroll through the city spotting some interesting street art, our first stop was Daiso for some Japanese snacks, including a wide variety of kit kats, drinks and other goods like pens, socks and study cards. We also made a brief stop to UNIQLO to check out some Hokusai artwork on T-shirts. But it seemed all were saving their money for the goods at the festival.
Next stop was Miyako Restaurant at Southbank where a variety of foods were enjoyed including chirashi sushi , Ume boshi and obento lunches. The two most popular choices were the tonkatsu don (crumbed pork cutlet on rice with egg) and the teriyaki chicken obento.
At Federation square the students enjoyed performances from taiko drum groups, Okinawa musicians featuring the shamisen and the famous George and Noriko of Australia's Got Talent. A highlight for all was participating in the bon odori dance demonstrations that are an integral part of any summer festival in Japan.