Dear Parent/Guardian of 2022 Year 12 Student,
As we come to the end of term 3, it is essential that we convey some important information to parents/guardians of Year 12 students.
The end of the Year 12 academic year is fast approaching and we wish to farewell the students in a way that recognises their efforts appropriately. The following is information pertaining to VCE exams, the last days of class and the Valedictory Presentation Ceremony.
Last Day of Year 12 classes – Wednesday 19th October
Wednesday the 19th of October will be the last day of required attendance at Wodonga Senior Secondary College for the Year 12 class of 2022. All classes will run and students will be required to attend classes as normal. Year 12 students will assemble at the flag poles at 3.20pm to celebrate the last bell. Students will be required to be in full, unaltered uniform for the entire day.
Farewell breakfast and assembly – Thursday 20th October
WSSC has arranged a celebration get together beginning at 9am. We will provide breakfast, music and activities. Students will have the opportunity to run an informal year 12 ceremony. This will occur at the flagpole area between the main building and the trade training centre. Year 12 students will have access to this area only.
This will conclude with a formal whole school assembly at the flag poles at 10.35am. After which Year 10 and 11 students will form a "guard of honour" as the Year 12's are farewelled out of the school by Mr Hilditch and Ms Walters. Parents are invited to see the students out the gate for the final time.
While it is a time for celebration at the conclusion of your child's studies prior to their examinations, we would like to take this opportunity to reinforce the College's expectations regarding behaviour and conduct on these days. Students are reminded that all normal school expectations and policies need to be adhered to. These can be viewed on the College website.
Any student who does not adhere to clearly defined College behaviour policies, or fails to follow the directions of any staff member during the day, will be asked to leave the school grounds immediately and may incur further consequences, such as:
Being excluded from the Year 12 Valedictory Ceremony
Having to sit the exams in a venue other than WSSC.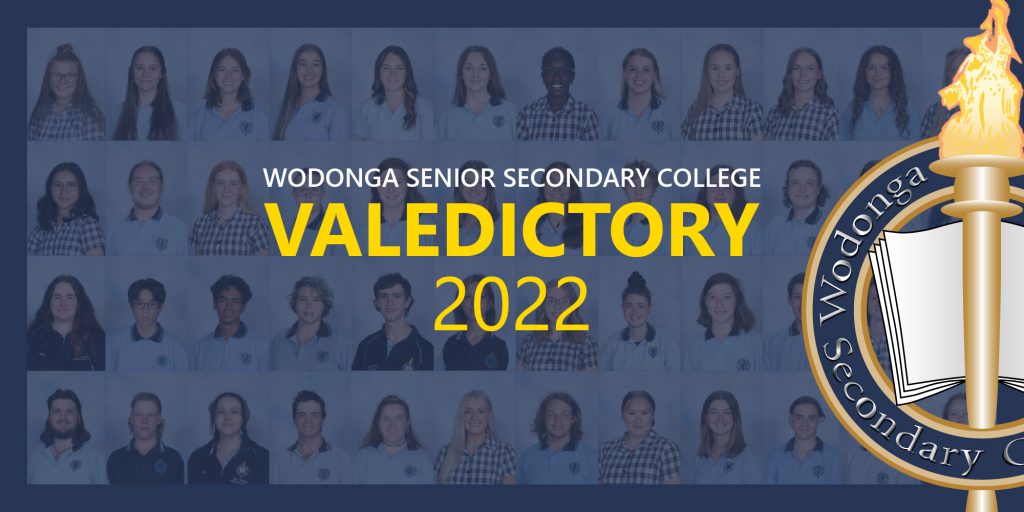 Valedictory – Friday 21st October
On Friday the 21st of October at 6.00pm (for a 6.30pm start) the College will be holding its Year 12 Valedictory Ceremony at the Albury Entertainment Centre. This will be a celebration of the Class of 2022 and will acknowledge Year 12 students who have undertaken VCE or VCAL. All current Year 12 students are invited. Ticketing arrangements will be communicated separately to this letter. Tickets are now on sale, with each Year 12 student can purchase a ticket for themselves and 2 special guests. Additional tickets will become available from October 10th. Tickets $33 GST inclusive. https://events.humanitix.com/wsscvaledictory2022
Final VCE Exams – Wednesday the 26th October to Wednesday the 16th November
All students completing VCE are expected to sit their final VCE exams and there will be no exam exemption process offered in 2022, as supported by VCAA. Students who complete their exams have a higher chance of success in the years immediately following Year 12 than those who do not. This includes having a greater chance of obtaining sustainable full-time work and apprenticeships, as well as tertiary education placements.
Students will be welcome at the College to access help from their teachers, to access required school resources and to study in the Study Centre during this time. It is advisable that they remain in contact with their teachers and check their college email on a daily basis so that they do not miss any important information or advice.
Careers Support
Our Careers team will be available right up until the 18th of December for students to access post-schooling careers and tertiary advice and assistance. If at any stage you feel your child would benefit from a careers and pathways conversation, please direct them to our Careers team.
ATAR and results release – Monday the 12th December
Staff will be available onsite at WSSC from 10am to 3pm on Monday 12th and Tuesday 13th for students requiring advice or guidance after the ATAR release.
If you have any question regarding any of the events above, please do not hesitate to contact Brydie Hind, Matt Moylan or Mark Smit at the College on (02) 6043 7500
Regards,
Brydie Hind, Matt Moylan and Mark Smit