Student Progress Interviews – Conducted Online
Date: Thursday 29th October 2020
Time: 4.00 pm and 8:00 pm
Dear Parent/Guardian,
We have implemented an online booking system to allow you to book interviews with teachers at times that suit your family. To book times with each for you to meet with your child's teachers please go to the following website: https://www.schoolinterviews.com.au/code?code=rjukj with code: rjukj
Please note, interviews will be conducted online in a virtual meeting room. Bookings are essential and will close on the 27th of October at 9:00pm. On the day you will receive an email with instructions detailing how to connect to each of your booked sessions. You will need access to a device with Internet access and a microphone such as a notebook computer or smartphone.
Please contact the college on 0260 437 500 if have any problems making a booking. On the night you can contact the WSSC ICT team on 0260 437 550 for technical assistance connecting to your interviews.
Lana Melbourne and Adrian Barry from our Careers & Pathways team will be available for bookings under the 'Support Staff' booking category.
Please note if your child has the same teacher for multiple subjects you will need to book a separate appointment for each subject.
Follow these 3 steps to book:

When you click FINISH, your interview timetable will be emailed to you automatically. If you do not receive your email immediately – Check your junk mail folder AND make sure you have spelled your email address correctly. You can return to www.schoolinterviews.com.au at any time, and change your interviews.
School Portal –  Student Reports
Visiting the School Portal at https://sims.wssc.vic.edu.au/ allows you to view your child's timetable and reports, view and approve their attendance, pay school fees and email your child's Teachers/House Coordinators. If you have any difficulties booking interviews or accessing the School Portal, please phone the College on 6043 7500. Our College has also developed a mobile app, available on both Android and iOS. Click here to learn more about it.
Grade Point Average (GPA)
The Grade Point Average (GPA) is a measure of how well a student is achieving across five performance areas.  Each of these five performance areas are graded on a scale of 0 to 4 (0 being the lowest grade a student can receive and 4 being the highest).  These grades are then averaged to produce one subject Grade Point Average. View our GPA marking guide
The subject Grade Point Averages are then averaged to produce an Overall Grade Point Average.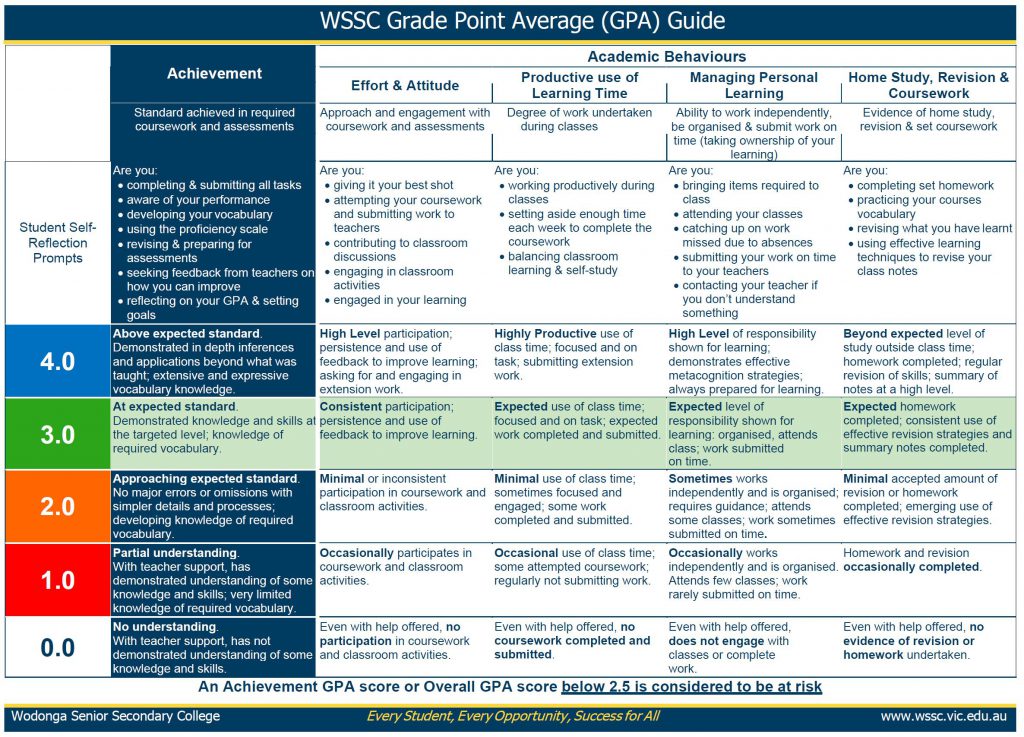 It is expected that every student can achieve a minimum of 3 as a GPA, regardless of academic ability.  Any student who receives a subject GPA average below 2.5 is considered at risk.
Regards,
Vern Hilditch
Executive Principal