On this page you will find information about how to login to the web version of the School Portal, the same functionality is also available on the School Portal mobile app – click here for more
Logging in
Login to the School Portal using the Username and password that are provided using this link: https://sims.wssc.vic.edu.au. If you are having trouble logging in to the School Portal or in changing your password please refer to this guide or contact the College office on 02 6043 7500.
Forgotten username or password?
If you have forgotten your Username or password, please refer to this guide or contact the College office on 02 6043 7500.
Approving attendance
After logging into the School Portal, you can access its range of functionality. If your child has unexplained absence they will appear underneath their profile on the School Portal.
To approve an absence or the absences for a day, click on either the 'Approve Absences' or 'Approve Period' buttons as indicated in the screenshot below
A pop-up will open, this is where you can select an absence type and enter a note to explain the absence.
Click the 'Approve' button to complete the process.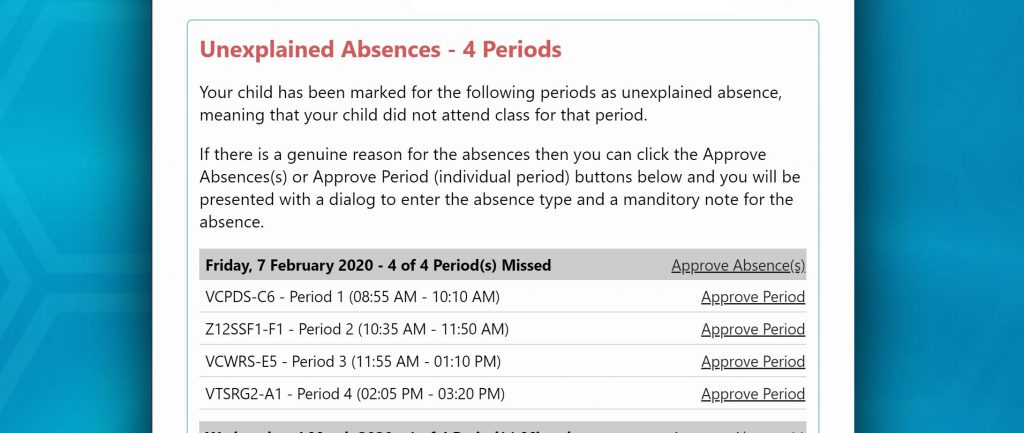 Paying school fees
Click the 'Pay school fees' button to pay the school fees for the selected student, this will open the student fees in a pop-up.
Using the checkboxes next to each fee, select the items that you would like to pay for.
After selecting the fees from the list available, click on the payment option that you would like to use.
Follow the prompts for your payment method of choice.
| Payment Method | Description |
| --- | --- |
| BPay | By selecting BPay you will receive a BPay code that you can use to transfer money from your bank account |
| Credit Card | Selecting this method will redirect you to a website that will require you to enter you credit card details. |
| COD (Cash on delivery) | By Selecting this payment method you will be required to pay at the front office. |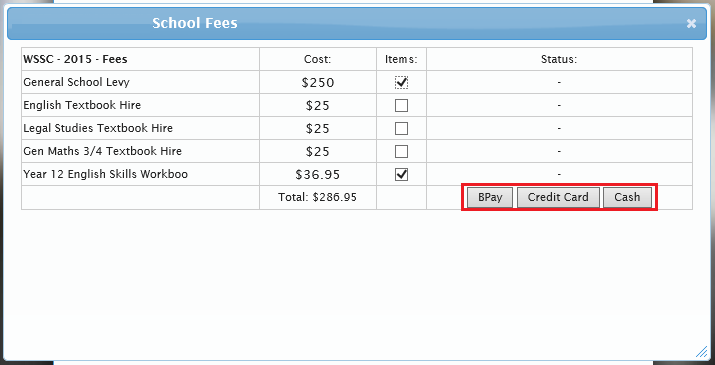 You can then finish off the payment process for your selected payment method.