WHAT IS STUDENT AGENCY
In 2023 Wodonga Senior Secondary College is introducing a new program called Student Agency. Student Agency is about empowering students to take responsibility for their learning- becoming independent and self-regulating learners. At WSSC we will be introducing scheduled times for students to practice 'Student Agency'.
Student Agency will be scheduled every day from 3.00-3.25pm AND every Friday during period 3 & 4. Activities will be advertised via the School Portal to enable students to prepare, and for parents/carers to have conversations with their child about how they are utilizing the time.
The school timetable and bell times are changing to:
Enable Student Agency in 2023.
Evenly space the day to optimise learning.
Facilitate trade training blocks on two extra afternoons.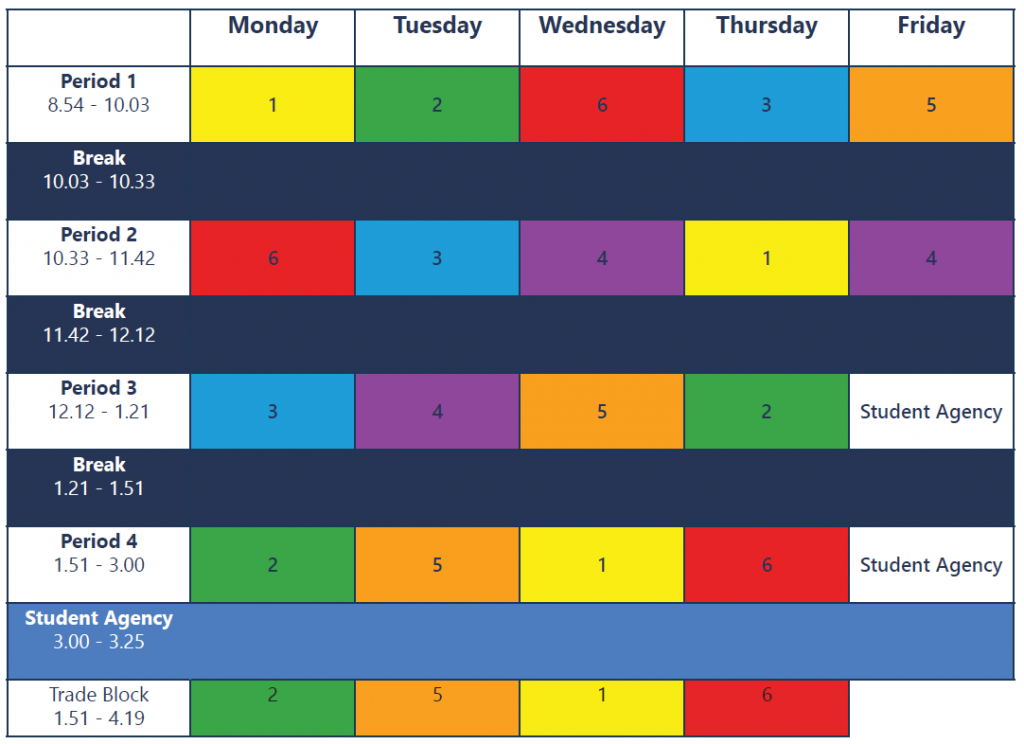 MONDAY – FRIDAY 3.00pm to 3.25pm
The purpose of Student Agency at the end of each day is for students to seek out the supports they require to be successful in their individual goals here are school. This could be used for:
Catching up with classroom teachers to get additional help with class work.
Meeting with the Careers Team to discuss pathways.
Seeking assistance through Study Club to improve learning tools.
Speaking to House Leaders about pathways or wellbeing issues.
Sports Training.
Tutorial Groups.
Student-driven school events.
Community Impact Work.
Independent Study.
FRIDAY PERIOD 3 & 4
The Period 3 and 4 Student Agency blocks will offer support to students in different ways depending on the year level.
Each year level will progressively remove the teacher-driven structure and move to a more self-regulated and self-driven independent structure.
YEAR 10 – SKILL BUILDING FOR LEARNING
Year 10 students will have structured 'Student Agency' classes during period 3 and 4.
A teacher will be allocated to each class and attendance will be taken and followed up.
Students will be supported to develop the necessary skills to become successful in senior school, as well as building the self-regulation skills to become independent learners and manage their learning pathway.
YEAR 11 – PRACTICING AGENCY
The Year 11 student agency program is focused on providing support structures for students to build their capacity to self-regulate their learning and make choices to meet their individual needs while at school.
Seminars, workshops, and courses, provided by school staff and external presenters Eg, study skills, careers, workplace/tertiary education presentations, wellbeing seminars.
Year level assemblies.
Common SACs for English and Maths.
Independent Study/ Tutorial Groups.
Community Impact Work/ Work Placement.
YEAR 12 – STUDENT AGENCY FOR SUCCESS
The Year 12 student agency program is primarily student-driven with information sessions to support success at year 12 and to provide future pathways advice (Early entry applications, careers advice, University application etc.).
Year 12 SACs will occur on Friday periods 3 & 4. This allows for maximum teaching time in subject classes
Attendance at presentations/seminars/workshops will be encouraged.