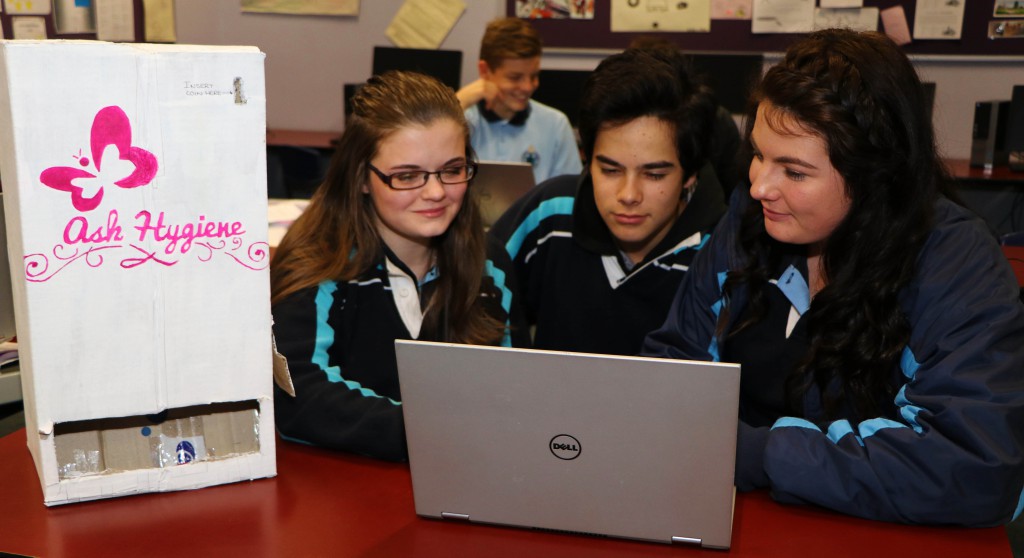 On Tuesday 19th July students from Mr Hosking's and Mr Webb's Business Management classes attended the La Trobe Business School's, Dream it, Plan it, Pitch it showcase at the Wodonga La Trobe campus. There were many schools in attendance at the event.
Once we arrived, we set up our business stalls in our designated areas, once we were set up and ready to go two groups of judges came by to speak with us about our business. Our business was called 'Ask Hygiene' which is a business that would provide a pad and tampon dispenser for high schools.
We thought of this concept because it was something that every woman would require. Between each of us we have all had a situation where we haven't had supplies and we thought about all those girls out there who may possibly be too scared to ask any of their friends for help.
When the first pair of judges arrived at our stall, we were quite nervous about the process but we gave it our best effort. Once the judges had left, we felt confident about our pitch and were ready for the next pair of judges. After the second pair of judges came we felt confident with our performance.
When the event was drawing to a close, we were waiting to see who was to be announced placing first and second. One of the judges said "this was such a simple yet incredible idea that I am very surprised hasn't already been done.". Our group placed second in the competition, we received a prize of $500 to split between us.
Our competition had some fantastic ideas and we are very grateful to have participated in the day. We would like to thank La Trobe University for running the Dream it, Plan it, Pitch it competition.
Karri Burke, Abby Kettner and Shannon Rowell

Business Management Students