Book Week is an exciting opportunity to celebrate a positive reading culture and the value of literature at WSSC. Book Week is celebrated next week and this year's theme is 'Find Your Treasure'. To celebrate Book Week at WSSC our very own 'Jolly Roger' pirate ship mast and treasure chest has made its way into the library at WSSC, thanks to Mr Boehringer and his talented VET Building Construction students (Liam Brigg, Jack Clapson, Logan Godfrey, Logan Adams, Amber Goldsmith and Jake Watson).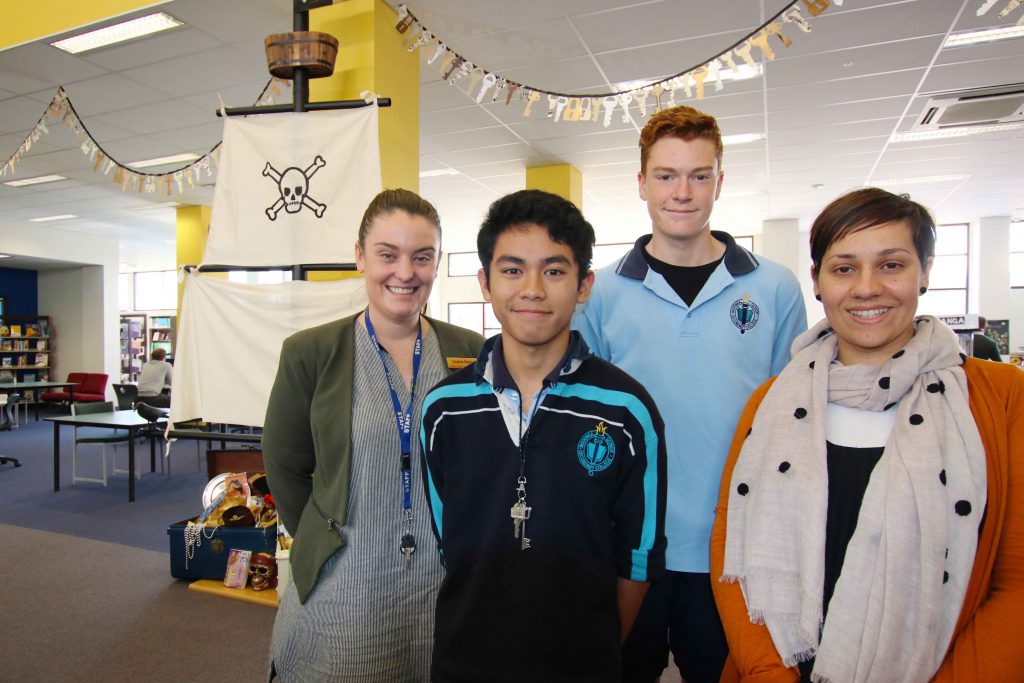 Library staff Sophie Blake and Andrea Gwilliam with students Harley Alegarbes and Logan Godfrey
Well done to Mrs Gwilliam and Mrs Gillman for their clever artistic work in putting the eye catching Book Week feature together.
WSSC teachers and support staff have also created #treasurereading profiles that are on display in the library sharing with the school community their favourite childhood reading memories, recommendations for good reads for students and the benefits they believe students can receive from reading for pleasure.
Recently, the library has created exciting new Manga and Self Help sections with some great new titles that are worth checking out. We also have some new desks set up in the back section of the library that receive lots of lovely sunlight if you are looking for a new spot to work or hangout during break times. EBSCO Explora (our reference database) has been receiving some brilliant usage statistics, remember to check out EBSCO when completing research tasks or if you like to read eBooks.
Be sure to visit the library during Book Week!
Miss Blake
Library Manager