The College library was a kaleidoscope of colour on Friday, bringing together the culmination of our Art, Visual Communication & Design and Multimedia student portfolio pieces. The 2019 Kaleidoscope Art Exhibition was launched this year by College Principal Vern Hilditch, highlighting the quality of work on display before announcing this year's exhibition officially open to students, staff and members of the College community in attendance on the evening.
The works have been created throughout the year as students developed their own styles through a range of experimentation and research which was supported by their coursework. This process enabled them to explore areas, artists and methods that interested them.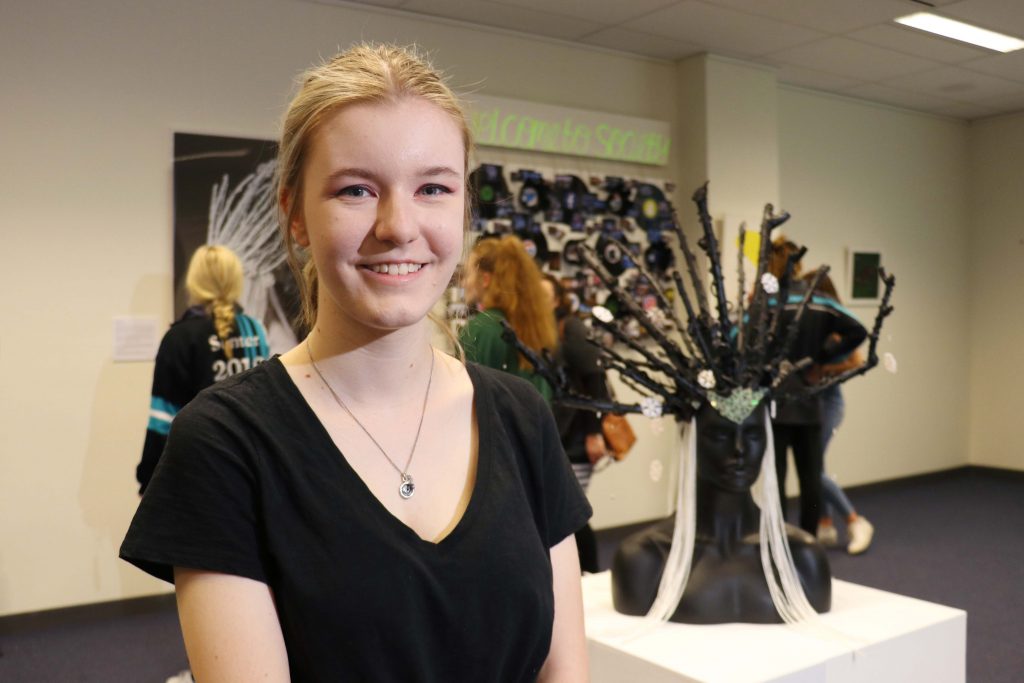 A Kaleidoscope of colour – Year 12 student Tegan Debnam with her artwork at our 2019 Kaleidoscope Art Exhibition
Year 12 student Tegan Debnam took the opportunity to connect with an artist based in the Netherlands who inspired her portfolio pieces. "The process of experimenting with different materials within my pieces was exciting" said Tegan.
Student Olive Cribbes highlighted the importance of experimentation and research, "The process of experimentation played a large role in the creation of my pieces, as I develop my ideas throughout the year".
"It was great to reveal our hard work to my family and friends, getting to show off my work on display was very rewarding" said Olive.
Well done to all students involved and all the best with your VCE exams in the coming weeks.