Congratulations to Daniel Agbay for winning the 2019 ACMI Screen It Video Game Award.
Daniel is a modest but very talented student. He was the only public school finalist in a strong field of private grammar school students, one of the students being last years winner. Daniel finished runner up last year, using this experience to learn from others and to improve his skills and industry knowledge.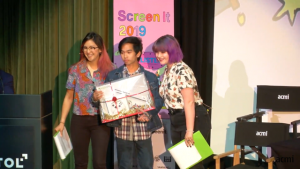 Year 12 student Daniel Agbay accepting his award at the 2019 ACMI Screen It competition
To compete in this years competition Daniel taught himself a new programming language and learnt how to use 3D games development tools. Daniels entry was a standout from the rest of the competition and is something that he should be very proud of.
This is the last year of the ACMI competition and as a College, we are very proud to have one of our own students win it.
Daniel has completed his Year 12 exams and is now hoping to get an offer from RMIT University to study Games Development or Computer Science.
Learn more about the award here: https://www.acmi.net.au/events/screen-it/
Take a look at our catch up with Daniel from last year: