A new chapter in the relationship between Indigenous culture and Wodonga Senior Secondary College was created with an official ceremony held to commemorate the unveiling of the Acknowledgement of Country plaque. The ceremony was led by Brooke Musgrave and Koori students Lorrolye Kernaghan and Makaliah Knight and was concluded with a speech from our Principal Vern Hilditch.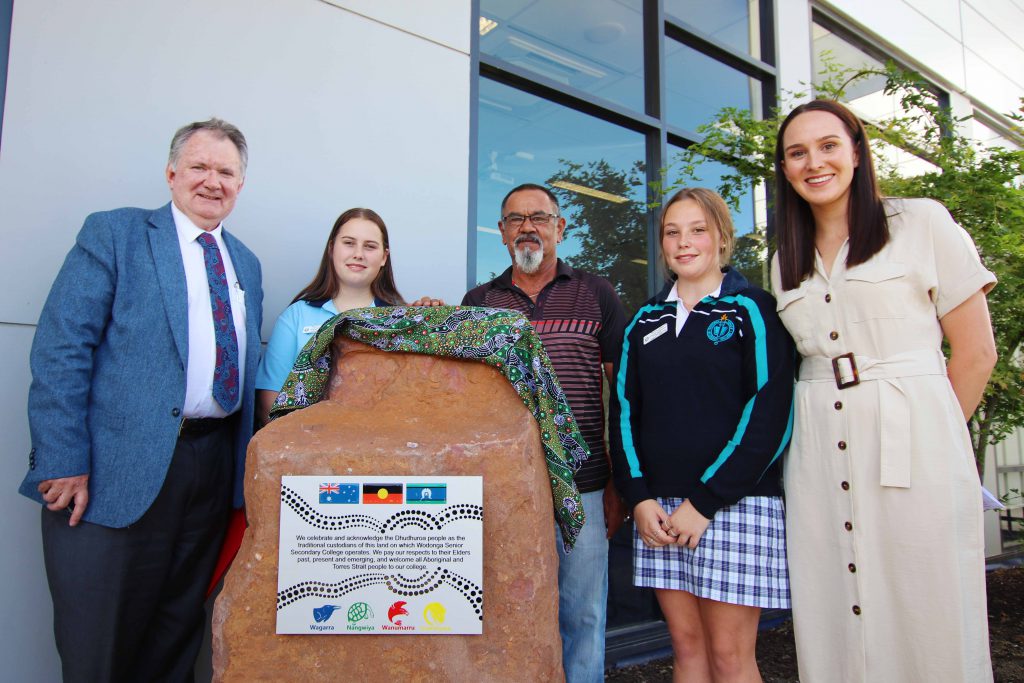 Left to Right: Vern Hilditch, Makaliah Knight, Uncle Allan Murray, Lorrolye Kernaghan, Brooke Musgrave

The plaque was officially unveiled by Dhudhuroa Elder Uncle Allan Murray. The plaque features the Australian flag, the Aboriginal flag and the Torres Strait Islander flag as well as the symbols of our four House groups; Nangwiya the long-neck turtle, Wanumarru the hawk, Wagarra the black crow and Gawungwa the black possum.
With the unveiling of this plaque, at the front door of our school, we recognise the importance of the traditional Dhudhuroa owners of the land and acknowledge the strategies which we believe could be implemented to improve Indigenous outcomes in the wider community. By achieving these goals we hope to share our culture with all students within the College. We hope the students will develop a stronger understanding of history in order to celebrate our future.