The Uniform Swap Shop was the first of its kind and it has immensely improved the WSSC community, thanks to our generous donators, pledgers, staff members, volunteers, and swappers.
Donations from our Year 12 students, staff and families has accumulated $2,731.00 worth of uniforms for the school.
Using these donations, students at our school saved $717.00
WSSC now has 56 extra uniform items ready for the next USS!

Additionally, 45 Year 12 students Signed the Pledge to donate their uniforms to WSSC after they have finished using them. If every pledger donated a set of clothing (ie. Shirt, Shorts, Pants and Jumper) – there would be a further $7,290.00 worth of uniforms coming to the school next term!
"We are so beyond shocked at how much WSSC came together, we hope we can continue this impact soon!" – Tahni Evans & Bidish Chouhan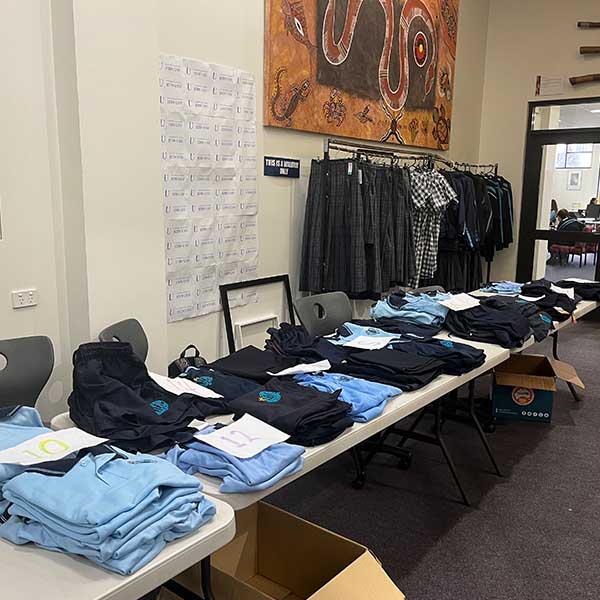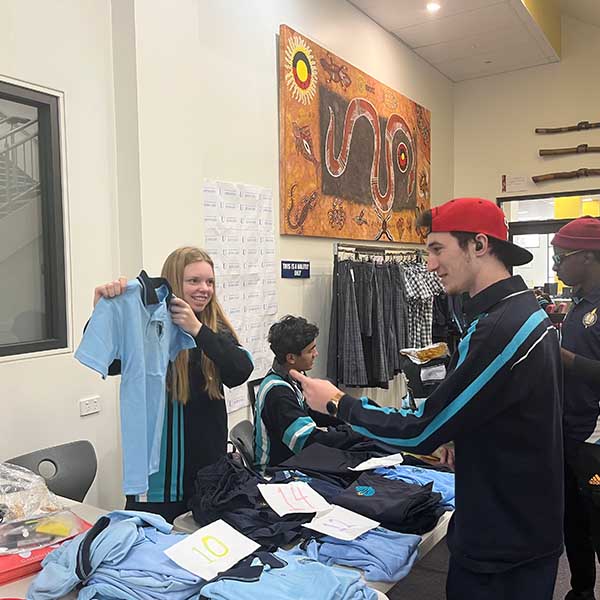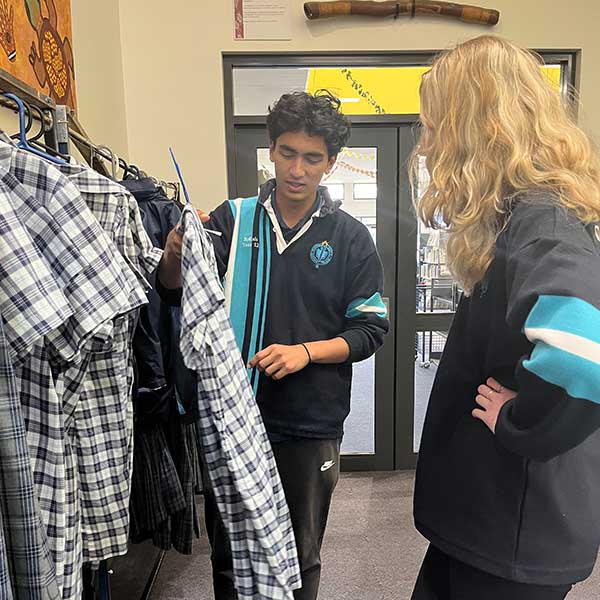 Thank you to our donators from the students, staff and wellbeing team:
Andre O'Connell
Perivence Ndakize
Le Minh Nguyen
Alisha Schubert
Montana Castro
Tameia Whiting
Mya Middleton
Anthony Martinelli-Walsh
Jorja Esler
Sarah Maybury
Axel Sullivan
Emma Frampton
Chiara Burnet
Lana Melbourne
Emma Gilmartin
Thank you to the 45 Year 12s who signed the pledge:
Le Minh Nguyen
Tahni Evans
Bidish Chouhan
Alisha Schubert
Chester Leek
Toby Bedford
Krystal Walsh
Montana Castro
Hannah Thornber
Solange Ntigonza
Solomon Ntigonza
Andre Ndungutse
Darcy Day
Minh Hieu Do
Alimasi Toga
Tom Tran
Emma Guilmartin
Tameia Whiting
Olivia McClure
Kaylea Kobzan
Imogen Anderson
Caleb Chapman
Jacob Hawkins
Nieva Willis
Somaiya Harriden
Riley Deery
Ayva Armstrong
Mya Middleton
Jorja Esler
Asha Romero
Chiara Burnett
Axel Sullivan
Andre O'Connell
Khoi Hoang
Kate Webb
Samuel Wood
Sofia Vaccaro
Konnor Manson
Friend Kighoma
Nicholas Wood
Cam Larkin
Damon Elliot
Cruise Austin
Megan Whitehead
Chloe Netherwood
Special thanks to the SLC, friends, teachers and other staff who helped along the way:
Seaniad Conroy
Imogen Anderson
Montana Castro
Alisha Schubert
Matthew Cummins
Eliza Seymour
Deklan Brown
Malia Scott
Wilbur Cribbes
Minh Nguyen
Krystal Watson
Perivence Ndakize
Andre O'Connell
Anthony Martinelli-Walsh
Emma Cochrane
Matt Moylan
Andre Ndungutse